Tale of Three Swatches
I wanted a cardigan with a stripe sequence that looks like this: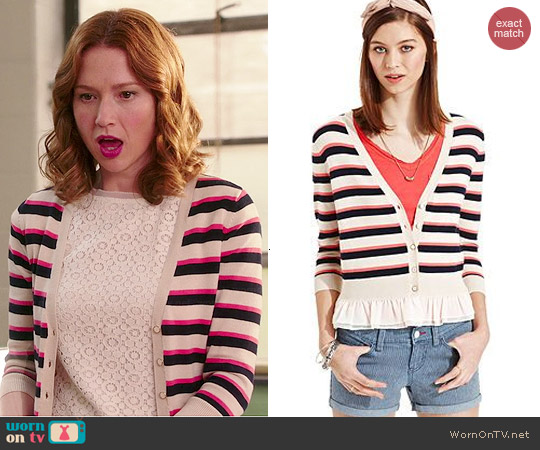 I'm using a slightly modified color palette, but I like the proportion and relative values of the stripes.  The sweater shouts "Spring!" to me, so sport weight wool seemed like the right choice.
Enter Galway Sport.  It's a brand-new 2-ply from Plymouth, and I have 20 or so colors in stock.
I've generated the pattern essentials using CustomFit, and with the total number of rows in hand, I worked out a stripe sequence that fit--and maintained the proportion of the inspiration stripes.  This cardigan is a V-neck, but I am knitting Inlet, from the CustomFit Winter/Spring 2015 collection.  I had the option to change the sleeve length from 3/4 to full length, so I did so.
The swatching process was interesting.  Swatch 1 used 3.5mm Knitter's Pride Karbonz, which were one size smaller than the ball band suggested.  My gauge was 5.2 stitches and 7.8 rows per inch--significantly looser than the recommended gauge of 6 stitches and 8 rows per inch.  Swatch 2 was on 3.00mm Addi Turbo Rockets, and while my gauge was a more pleasing 6.1 stitches and 8.8 rows per inch, this swatch was the least consistent of the three I knit. It was noticeably not square, and the tension was less even than I'd like.  I decided to try one more time using needles with a little more grip.  Since I'd used the Karbonz for the first swatch, and ChiaoGoos skip from 2.75mm to 3.25mm, I decided on 3.00mm Addi Turbo Lace needles.  That was the magic combo for me.  (Although I suspect that 3.00mm Karbonz would also have worked.) Some of the inconsistencies of Swatch 2 were probably attributable to inattention--I knit some of it standing up, some sitting, some while doing other things at the same time--but the slight drag of the brass finish on the Lace needles had a subtle effect I liked.
Here's how my final swatch numbers measured up:
30 stitches measured 4.875" (6.2 stitches per inch)
40 rows measured 4.625" (8.6 rows per inch)
Total swatch measured 7" x 6.875", and weighed 17.5 grams
Just to be on the safe side, when beginning the pattern, I started with a cardigan front, instead of the larger back piece.  After about 7" of knitting, my tension seems to be on track, and I love the oatmeal, navy, and bright pink together!
The process so far highlights a couple of the advantages of CustomFit.  You'll notice that there was never a point where I had an even number of stitches per inch (or even x.5 stitches per inch).  Instead of trying to match the gauge of a pattern, the pattern is created from the gauge of the fabric I liked the best--and I was able to experiment until I was satisfied. Also, this sweater is a pretty math-intensive endeavor--but I only have to worry about the stripe placement & matching part of it--the basic silhouette and shaping are sorted, and are made for me.
If you've talked with me, you know I'm not a "hard-sell" kind of gal.  But when I am genuinely enthusiastic about something, I'm not shy about sharing that enthusiasm.  I love making sweaters within the CustomFit platform, and I think that the opportunity to participate in the design process is a big part of the reason why!